LESLIE WEST Unusual Suspects Provogue (2011)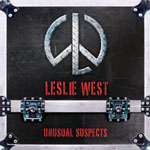 The enigmatic Leslie West is as much a master of the one liner as he is of the sustained note. So when he was recently talking about air molecules; 'I love to feel the speakers move the air. The heavy sound it takes to make that happen really does it for me', you can guess that in spite of his recent amputation traumas, he's lost none of his intrinsic power, energy or drive.
'Unusual Suspects' derives its title from the roster of high profile guests, as Leslie restates his 'king of tone' persona on his most wide ranging and impressive album for some time. And while Leslie makes the most playing with Steve Lukather, Zakk Wylde, Kenny Aronoff, Joe Bonamassa, Billy Gibbons and Slash etc, we've been here before of course, with his similarly star studded 2004 covers album 'Guitarded'. The big difference between the two lies in the coherent set of songs to be found on 'Unusual Suspects' that hang together like all good albums do. There are plenty of good performances, very little slack and more importantly most of the dozen tracks suggest Leslie still has the fire in his belly.
And in between exploring his signature guitar sound with a concise use of sustain, and his undiminished brusque vocal growl, there's a cornerstone track called 'Legend' which is almost a poignant lyrical summation of the man himself.
Significantly the timing of 'Unusual Suspects' seems to have tied in with his recent rehabilitation, but in fact the album was scheduled before his ill health and suggests that things were already on an upswing. And while 'Unusual Suspects' is by no means a stellar album it is wide ranging and adventurous enough to incorporate what Leslie identifies as the guests 'own sound and style' into a musical hybrid that remains uniquely his own.. That's no mean feat for a guy who lost his bedrock song writing partner Felix Pappalardi back in '83. Since then Leslie has rebuilt both his solo career and maintained Mountain's profile primarily through his unique guitar voicing, an enduring visceral growl and an often overlooked sense of melody. 'Unusual Suspects' makes good use of all those facets on album that has a noticeably greater emphasis on songs and lyrics, resulting in Leslie's best performance for years.
The acoustic/electric triumvirate of Slash, Wylde and West help Leslie produce one of his very best vocal efforts on a well chosen cover of Willy Nelson's 'Turn Out The Lights' as he infuses the words with the kind of real feel that suggest they were specifically written for him. He impatiently growls 'I was born ready' on the intro as the contrasting acoustic/electric approach, accompanying handclaps and West growl court a gospel vibe; 'Turn Out the lights this party's over, but tomorrow we can start again' .
And it is Leslie's larger than life personality that dominates the album. Where on previous cuts his stunning tone did just about enough to rescue him from a one dimensional recording, there's a more organic feel here born of a more spirited approach.
The guests certainly leave their respective imprints from Steve Lukather's long linear lines on the opening piano led boogie of 'One More Drink For The Road' and the Zakk Wylde and Leslie guitar frenzy of 'Nothing's Changed', to the surprisingly heavy vocal duet with Bonamassa on a lumbering rehash of 'Third Degree', a song Leslie previously cut on 'Guitarded'. Then there's an inevitable ZZ Top influenced joust with Billy Gibbons on 'Standing On A Higher Ground' which turns out to be a perfect mid-paced growler for a pair of rock's elder statesmen.
And while the guests push Leslie's music into a wider orbit, the Mountain guitarist delivers his best three songs all on his own. The Jack Bruce influenced melodic hard rock ballad 'To The Moon', is a triumph of dynamics taking in a strong melody, some spiky guitar breaks and stop-time bone crunching riffs topped by a trademark Leslie scream. There's also a rare event when Leslie checks his bluster and digs deep to emote on 'Legend'.
His growling vocals are beautifully offset by long sustained linear notes and a lyric that captures a moment; Don't call me legend, I came here to play, Don't call me legend, that's all I have to say and there's an almost unimaginable self deprecating couplet on which he says my fans have changed over time, yet they come back to hear my pantomime and the players dead or alive, who made the sound I keep deep in my mind'. Leslie brings the suspectly named Joe Pizza's lyrics to life on the back of a beautiful piano line, nuanced strings and some soaring big toned guitar work on one of the best arranged tracks of his solo career.
Finally there's 'Love Forever', which is confusingly wrongly numbered on the track listings, but it's a triumph, being a chopped riff boogie on which Leslie snarls like a grizzled rocker and adds fluid solos and trademark sustain.
Leslie wraps things off with a left field bonus track 'Beetle 'I Don't Know' (sic), which is the closest he gets to some Lennon style primal therapy. Maybe after working so hard on the previous eleven tracks, he needed to let off some steam. Not so much a 'Nantucket Sleighride' as simply impressive proof that Leslie still rocks.
****
Review by Pete Feenstra
---
| | |
| --- | --- |
| | Print this page in printer-friendly format |
| | |