When listening to your music it's obvious you have many different influences but are there any particular idols that any of you have?

Joey: I don't know really, we mix. There's very few idols across the five of us.
Jonnie: And that's the way it goes really, it's to do with the instruments I think.
Aron: I think we all appreciate the individual musicians of bands but there's Pink Floyd. We all like them as well.
Jonnie: Radiohead. But yeah, we've all go individual tastes.

You've obviously played the O2 Arena in London with Bon Jovi but is there any particular venues you'd like to play in the future?

Jonnie: This room?
Joey: There's a lovely room just over there, yeah?
Jonnie: The big room in Sheffield Academy, it's more to do with the crowd really.
David : El Paradiso
Jonnie: Yeah, Paradiso in Amsterdam is probably, yeah is my favourite venue I think. We all love it, actually, I think it's mutual, it's like an old church.
Daf: It's massively growing our fanbase now but we obviously need bigger venues to do that.
Joey: Wembley stadium?
Aron: As long as we keep the kids.
Jonnie: Yeah it doesn't matter where we are really it's all about the vibe.

Sometimes it's better to play smaller venues as well as the big ones at the same time really isn't it?

Jonnie: Yeah, absolutely.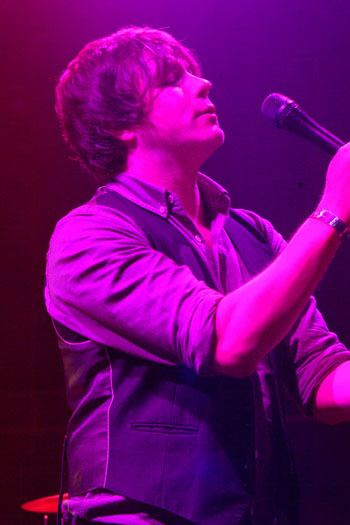 I've heard you've got plans for a new album, you must be moving pretty fast! Is there any particular direction you want to head in with the new album, are you sticking with the same sound or experimenting a bit more?

Joey: We're just letting it grow organically I suppose, it's a natural progression all the time and we found we're always trying new things out you know? We're constantly trying to move forward better than we've done. I suppose that's pretty much all we can do you know, not look back and just keep moving forwards.
Jonnie: It's all about evolving.
Aron: We know this album isn't going to be a carbon copy of Parade, it's going to be a totally different album and different songs.
Joey: At the same time you can see it's going to be natural.
Jonnie: We've already started working on quite a lot of ideas. We're really chuffed with the idea that we've got and it's looking good! I mean it's so far so good and we've tried it for the producer.
Joey: We played a new one tonight!
Jonnie: Yeah, we played a new song tonight, Emergency. That's like a first new song we wrote, we finished it in Amsterdam. It sort of started some sort of direction. It's really tough.
As soon as you get one or two songs started you can see where you kind of want to go with something. Yeah, so that song's kind of been the key to all of our new ideas.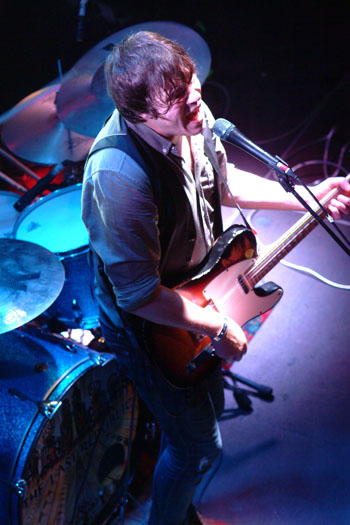 Are there any bands you've particularly enjoyed playing with while you've been on tour recently?

Jonnie: I think we've enjoyed playing with everyone! We make friends with everyone, we make friends with the bands, we make friends with the crew. For me personally, going back to idols as well, when we toured with The Levellers, Mark Chadwick, he was my idols, that's when we got into music. So I mean, for me playing with levellers is perfect. It was great.

What's it like touring in that van of yours because you see most bands touring in massive tour buses. Do you get into fights with each other or do you seem to get along pretty well?

Jonnie: We don't get into fights. There's no space to fight really! Yeah, you passed The Alarm's massive tour bus and there's our van. Our's is the size of there bedroom.
Aron: We gotta get our gear into our van as well, they don't! You get used to it.
Dafydd: You get used to each other's bad habits.
David: You do your own thing as well.
Jonnie: I've grown to love it, I do love it!
Joey: We don't get into fights now.
Aron: You develop a certain order to things, a way you do things like when we set the beds out a couple get to stay out the van while a couple do it and somebody gets into bed, then you set up another bed then somebody else can get into bed before everyone else can get in.
Jonnie: It's like boy scouts really!
David: If someone's really pissing you off you just put your headphones in!

Are you doing anything for the festival season this year?

Jonnie: We're doing Bearded Theory tomorrow, we're on just before Athlete on the main stage. We're doing some of this Forestry Commission festival as well but we're waiting to find out what band we're playing with but we've been booked.
I think they're waiting on a headliner so…I mean to be honest we're gonna be working on the album and this tours pretty much brought us up to the festival period. I think we're gonna work on album number two and catch the festivals next year so we're probably gonna be back on the road in September but I mean we're doing a few festivals just to keep busy. Trying new material out aswell.

Do you have any tips for upcoming bands?

Joey: Work hard man!
Jonnie: Get a good manager. It's not gonna happen over night.
Joey: You know find your vision, stick to it and get a good manager.
Aron: And make friends.
Joey: You need friends...
Aron: And family.
Dafydd: Yeah, you don't know who's gonna be happy here and who's gonna be good.

Any last words for fans?

Joey: Thank you very much! Thanks for being good fans!
Jonnie: Thank you for your support!