Purple revisit Montreux with Orchestra...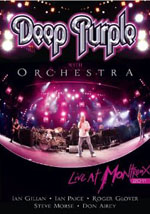 As documented in opening lines in 'Smoke On The Water' back in 1972, a close link was long ago forged between Deep Purple and Montreux, where the band have returned to record and play live on a number of occasions.
Here the band play a storming gig with complete orchestra, something the band have also been linked with for even longer.
First thing to do is take all expectations and comparisons concerning Blackmore and throw them away, for two reasons; the current line-up have been together for long enough in their own right, and second the arrangements are bolstered with the orchestra. And a great sound it is too.
A funky orchestral intro opens before the band take stage and a solid 'Highway Star' starts the proceedings; the keyboard lines are excellent, and the guitar quite blistering too. Paice and Glover provide a strong diving rhythm too.
Thoroughly enjoyable also is Gillan's vocals. On the opening track for example, he still gets some good high notes and makes a serious effort. You can't deny they're not as strong as they were 30 years ago, but to his credit they're good, the effort is made and he still sound better than his original Purple replacement. And it's all done with a smile.
'Hard Loving Man' follows, then the classic 'Maybe I'm A Leo' - amazing how much sound comes through from the bass and keyboards, giving Morse's guitar space to solo in shred style.
'Strange Kind Of Woman is another tight solid number delivered with aplomb.
'Rapture Of The Deep' and 'Contact Lost' sit well next to 'Woman From Tokyo' and 'When A Blind Man Cries', various members of the orchestra nodding along with the audience.
'Knocking At Your Back Door' is, just like every track here, received enthusiastically and benefits from the arrangements with the orchestra. Several tracks are extended too, the into to 'Lazy' becoming a bit of a jam.
Then there's the excellent keyboard solo from Don Airey. Elements of Emerson and Lord and sounds ranging from new wave to rock'n'roll and classical, the latter with the orchestra joining in. 'Perfect Strangers' and the wonderful 'Space Truckin'' follow - and no Montreux show would be complete without 'Smoke On The Water'; crowd, band and orchestra become one.
'Hush' and 'Black Night' complete the 19 track set that runs to 110 minutes (with Funky Claude introduced at the end).
The orchestra is not overplayed - it's well (if sometimes sparingly) used, it's a new dimension without being symphonic.
The band are tight and on form, and more importantly the band are still clearly enjoying it.
DVD bonuses include an interview with all five members that totals nearly an hour.
Thoroughly enjoyable.
****
Review by Joe Geesin