CONFLUX Spark (2011)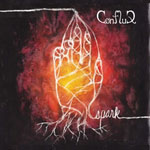 'Spark' by Conflux isn't so much a heavy album as a dense and at times opaque work that pulls itself out of the abyss by the sheer vibrancy of its interplay. And being a contrapuntal work that features the lead instruments of guitarist/song writer Kevin Florian and tenor saxophonist Dan Burke, all cleverly shaped by the ferocious rhythm section of Steven Florian and bassist Burke (presumably related), it's the ultimate coalescing of the previously fiercely independent soloing at the conclusion of 5 interlinked pieces that offers a belated pay off for the listener.
If anything, 'Spark' suggests the enduring legacy of jazz rock pioneers like Robert Fripp, especially his King Crimson 'Red' album. For 'Spark carries the same intensity of playing, the same obdurate solo's and a wild mix of angular interplay, some at times so spontaneous that you do at times wonder if they will all come back to base at the same time.
But 'Spark' is anything but a free for all. The stop-start staccato lines of 'Luncheons and Wagons' and the sax and guitar double lines and explosive cymbals splashes to be found at various points over the 5 tracks mark the tonal colours and adventurous musical spirit to be found in a mapped out work. 'Sparks' is a work on which the emphasis subtly shifts form sax to guitar and back again, and very often leads to points of resolution via double lines. On 'Repent at B' it's the other way round with the opening double lines over thunderous drums leading to some spirally guitar soloing before Dan Burke takes the lead with some ferocious blowing before veering into a Metal conscious riffs and lightning time signatures.
But there's more to this album than a mere exposition of ferocious chops and a free for all. The corrugating guitar riffs on 'Fire Garden' for example, lead the ensemble into another brief tension building cacophony before a short unexpected melodic outro.
And so it goes on leading to the contradictory title of 'Straight Up' where's there's so much going on, you can barely grasp at the differing musical options. The repeated bursts of sax and guitar, busy drum pattern, and rumbling bass seem to pull and push the music hither and thither, before a heavy riff draws things together and brings us back to King Crimson mode.
The shifting emphasis on each instrument, the changing time signatures and mix of jazz and metal might sit uncomfortably with staid music fans, but you somehow think that accommodating the listener is the last thing on Conflux's mind.
There may be a thin dividing line between the musical problems you set yourself and their resolution, and then translating those results to the unsuspecting listener. After all you could not imagine this CD comfortably finding a place in either a metal or jazz categorisation. Much better to simply file it under the catch all concept of the title 'Spark', because these guys take off like a fire cracker, destination unknown.
****
Review by Pete Feenstra
---
| | |
| --- | --- |
| | Print this page in printer-friendly format |
| | |