BRAINTICKET The Vintage Anthology 1971-1980 Cleopatra (2011)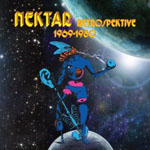 "Time... invented by the Swiss to justify their manufacturing watches" was the late satirist Spike Milligan's barbed summing-up of both the passing of hours (and how we should ignore it) and probably the world's dullest nation's attempt to commercialise the process. After all, Switzerland is home to Heidi, ski-ing, cuckoo-clocks, chocolate, wartime neutralism (e.g. cowardice) and secretive banking practices.
What flies in the face of this conventional wisdom is the subject of the Cleopatra label's latest archive box set. In informed and revealing notes, music writer and major fan Dave Thompson ponders as to how Julian Cope could have left Brainticket out of his definitive tome on the extraordinary music indigenous to Germany in the early '70s, 'Krautrocksampler'. We do not get an answer here so I can only suggest that it's because it was fronted by a Belgian based in Basel.
In every other regard, this band distinguishes itself as an exemplar of the genre: original, idiosyncratic and willfully uncommercial - 'songs they never play on the radio' as the old saying goes.
Yet this lovingly compiled box set (a collector's dream with poster, mini-book and cute badge) dashes to the ground any suggestion that Brainticket could never cut it, spooning up, across four CDs, the band's total output of five studio albums as well as later demos, a 1973 live album, and some fascinating 1950's and '60s recordings of Joel Vandsroogenbroeck's alter projects including the deliciously-sobriqueted soulsters Barry Window And The Movements.
Vandsroogenbroeck is the man: a jazz pianist who in the Summer of Love came under the spell of Hendrix and King Crimson as well as early Amon Duull II, Can and Tangerine Dream. Furious 1971 debut 'Cottonwood Hill' is uncompromising: bolting orgasmic female spoken-word to cheesy Hammond and pattering tablas, its mantra is returned to time and time again until it starts to sound like a looped soundtrack to a horror/porn flick.
Much to Vandsroogenbroeck's horror, the acid vibe underpinning its promotion bagged it into being a drugs album, thereby banning sale in a number of countries. After swift follow-up 'Drum Circus - Magic Theatre' (the Tibetan Book of Life and Timothy Leary both get a look-in), the following year's 'Psychonaut' was a straighter affair with more progressive leanings; recorded in Rome with a revised line-up, it features the band's most commercial moment in 'Watchin' You'.
Next up, 'Celestial Oceans', an imagining of the Egyptian kings travelling through time and space, was followed by starvation, implosion and post-recovery experimentation with Balinese music culture, the band later returning to the studio for a number of sessions making TV and film mood music from which 1980's 'Biomechanoid' sprang, cold and threatening with a memorable HR Giger cover.
Brainticket never gave up: in 2011 Vandsroogenbroeck is talking up the band's first US tour. Quite exactly what audiences would get is open to conjecture: that it would be mesmeric, thrilling and utterly individual is not in question.
****
Review by Peter Muir
Peter presents 'Progressive Fusion' on Get Ready to ROCK! Radio every Sunday at 19:00 GMT
---
| | |
| --- | --- |
| | Print this page in printer-friendly format |
| | |