BAKER GURVITZ ARMY Reissues Esoteric (2011)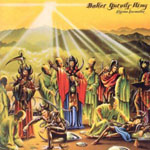 Self-proclaimed jazz drummer Ginger Baker's forays into the rock idiom peaked qualitively in the power trios of supergroup Cream and this mid-70's act, whose three (unjustly) forgotten releases, now exhumed with bonus live material, are rather fine.
It's not just that Baker was a great drummer but found, for a couple of years at least, the high level of professionalism he upheld in his own playing matched by guitarist brothers Adrian and Paul Gurvitz, who had by now enjoyed their own moment of fame when as Gun they propelled pacey psych rock belter, "Race With The Devil" up the international charts back in 1968.
In Three Man Army, the Gurvitzs had later asserted their regard for top flight drummers by including the likes of Mike Kellie, Carmine Appice and Buddy Rich on the line-up.
1974's Baker Gurvitz Army is an assured blues rock effort, occasionally reminiscent of Mountain ("Memory Lane"), with a mid-Atlantic drift abetted by backing vocalists Madeline Bell, Lisa Strike and Barry St John. Baker's drumming is fluidly restless yet perfectly disciplined and complements some exemplary lead guitar work from Adrian Gurvitz. ***
The following years Elysian Encounter ups the anti: faintly conceptual (apparently about a meeting of the gods), its progressive stylings enable the band to showcase range. Quality material ('People' and 'Time' with Ginger's growling spoken word opener stand out) is fleshed by guest talent including keyboard player Pete Lemer (fresh in off Seventh Wave) and ex-Sharks Steve Parsons, who takes on vocals duties. ****
A funkier sound prevails over last gasp Hearts Of Fire and further evidence of the band's eclecticism dots proceedings, with deft orchestration from Martyn Ford (the Gurvitzs' early work well-utilised orchestra) and consistently strong material including a highpoint in the Parsons-penned "Neon Lights". ***
The tragic death of its manager and a falling-out between Baker and Gurvitz A. killed off the Army in 1976. But a glance back at the cast assembled here measures the solid stamp of quality; hindsight will probably have these fare better this time round.
Review by Peter Muir
Peter presents 'Progressive Fusion' on Get Ready to ROCK! Radio every Sunday at 19:00 GMT
---
| | |
| --- | --- |
| | Print this page in printer-friendly format |
| | |