ANATHEMA Falling Deeper Kscope(2011)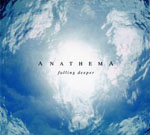 Anathema are a Marmite band. You either love 'em or hate 'em. That said, up until recently I've been more or less ambivalent towards them.
I'd heard the odd thing from their doom-laden past which didn't do much for me, then I splashed out my hard-earned on their last album 'We're Here Because We're Here'. Now this had won the Classic Rock Presents Prog magazine's 'Prog Album Of The Year' award, but for the life of me I couldn't understand why. Repeatedly hitting one note on a piano keyboard does not a great album make, and the sound of harrumphing was duly heard.
So, what to make of this, the band's latest effort? Well, despite my (fully justified) reservations when loading it in to the CD player, this is rather fine.
Essentially, the nine tracks on offer here are re-workings of some of Anathema's more anthemic back catalogue, complete with what sounds like a full symphony orchestra in tow. And it works really well.
It must be very easy when doing this sort of thing to fall into the 'Classic Rock' 'The London Philharmonic Plays The Hits Of Genesis' elephant trap but it's obvious from the outset that this has been neatly sidestepped. Nor is it one of those albums you can put on as background music - this demands nothing less than your full attention.
As I say, nine tracks here and every one delightful in its own way. Mostly piano led but with some very tasteful acoustic guitar, a restrained orchestra and minimal, almost incidental vocals, this could easily become soporific, the fact that it doesn't is testament indeed to the quality of the material.
Hard to believe that the band responsible for this slab of loveliness let me down so much on their previous album, but such is the quality of the music here I'm tempted to not just re-visit 'We're Here' again, but also track down their earlier work - just to make sure I didn't miss something.
****
Review by Alan Jones
Alan sequences "The Eclectic Mix" on the third Sunday of every month on Get Ready to ROCK! Radio.
Gig review (September 2011)
---
| | |
| --- | --- |
| | Print this page in printer-friendly format |
| | |