ABBA Super Trooper Deluxe Ed. Universal (2011)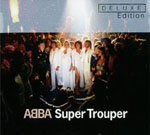 Between them Björn Ulvaeus and Benny Andersson have written some of the most memorable songs of all time and as part of ABBA they have sold in excess of 375 million albums, and continue to sell more albums a year than most new bands- not bad for a band that were together for just 10 years (1972 to 1982), even the Sex Pistols' Glen Matlock has allegedly 'borrowed' from some of their songs and who can forget Malmsteen's version of 'Gimme, Gimme, Gimme'?!!!!
Originally released in 1980, 'Super Trouper' was ABBA's seventh album and features the singles 'The Winner Takes It All', 'On And On And On', 'Lay All Your Love On Me', 'Happy New Year' and, of course, 'Super Trouper' itself. Now the album is being re-released in a deluxe format, featuring 5 bonus tracks (including Spanish versions of 'Happy New Year' and 'Andante, Andante') and a DVD.
The album is already well know, however, what fans of the band will be happy with is the DVD which features archive footage, TV performances, adverts and documentaries. Of course the live performance from German TV is dated, however, the songs themselves are timeless- the same can be said of the re-mastered promo clips for singles 'Happy New Year' and 'Super Trouper' and the two UK TV commercials for the album.
Vintage documentary 'Words and Music' is also included, released on DVD for the first time, it features the band talking about the album shortly after its completion. Finally, there is the brand new featurette 'Somewhere In The Crowd There's You- On Location With ABBA', the footage has been compiled from the night that the band, along with sleeve designer Rune Soderqvist, assembled a crowd of friends and circus performers to create photograph featured on the album's front cover.
Fans of ABBA will no doubt love this deluxe edition of 'Super Trouper' and it is a good reminder of the creative genius of the band.
****
Review by Nikk Gunns
---
| | |
| --- | --- |
| | Print this page in printer-friendly format |
| | |