DIANE BIRCH Bible Belt (2010)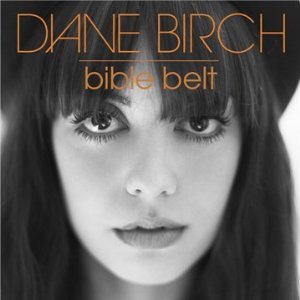 Some may say Jools Holland is insufferable, but his Later... programme, which always brigades an eclectic group of artists, does at least have the capacity to surface artists who might otherwise pass below the radar.
One recent, and very fine, example is the American singer songwriter Diane Birch. Not only does this young lady look stunning on screen, but her piano/vocals style goes a long way to recapture the golden era of Carole King's Brill Building and early solo period. That she manages to do so with such panache, and without sounding overly retro, is a massive compliment.
Of course, in recent years the vogue for aspiring singer songwriters has been to add a twist of jazz to the genre - Norah Jones, Melody Gardot, Beth Rowley and Katie Melua being prime examples. Diane Birch largely disregards that formula, going back to the piano / vocals basics and then sprinkling a liberal dusting of stardust in the form of subtle blues, soul, gospel, jazz, and country nuances.
In many ways the album title, and the musical content reflects Diane's formative years travelling Africa and Australia with her family - her father being a Seventh-day Adventist preacher. Until she returned to the States at age 13 her primary musical influence was church music. And those roots are never far below the surface.
Now 27, the really big surprise is that her talent went undiscovered for so long. Plying her trade as a 'pianist for hire' it wasn't until an astute manager in London spotted her MySpace page and enticed her over here in 2007 that she got a publishing deal. But from there it was onwards and upwards - to New York to sign a record deal and record her debut album with a bunch of seasoned pros.
The result - Bible Belt - 13 excellent songs, is a personal triumph. Carole King defined a genre and in Tapestry left a Kilimanjaro sized mountain for others to aspire to conquer. With Bible Belt, Diane Birch has gone way beyond base camp. And while there is still some way to the summit, she's breathing some very rarefied air on songs such as Fools, Valentino, Nothing But A Miracle, Don't Wait Up and Ariel, all of which have all the hallmarks of longevity.
Diane Birch is on the verge of major breakthrough in the States, and is making waves in Japan. And it's easy to see why - Bible Belt transcends the singer songwriter / popular culture boundary in the same way as say, Billy Joel did in his heyday.
****
Review by Pete Whalley
---
| | |
| --- | --- |
| | Print this page in printer-friendly format |
| | Tell a friend about this page |