Bowie pot-pourri best left unseen...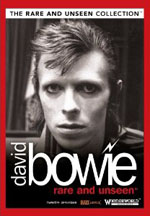 I was impressed by John Lennon Rare and Unseen which gave a very watchable portrayal of Lennon's natural humour and some insight into his idealistic philosophies. So I had reasonable expectations for this release.
In contrast, it reveals little other than that Bowie has mastered the art of avoiding answering a direct question. The centre piece is a Russell Harty interview from 1975 conducted via cross Atlantic link. Time hasn't improved Harty's painful interview technique and as Bowie admits in a later clip, excessive chemical ingestion made him unable to function rationally in that Thin White Duke period. As a consequence many of his responses are limited to 'yes' or 'no' answers or rhetorically turning the question back on Harty. It's an uncomfortable watch.
Bowie is, at least, more animated, rational and forthcoming in some of the later clips, and all too brief interviews with Carlos Alomar and Peter Frampton around the time of the Never Let Me Down album and Glass Spider tour in 1987 serve to lighten the mood and add at least a little insight to Bowie's creative process.
Elsewhere, there are brief clips from The Tube and a pre gig Janet Street Porter chat. But it's all horribly chopped up and splice together and one clip with the Blue Jean video director is even repeated! Worse still are the musical interludes by tribute/cover artist Stevie Riks (yes, really) who does his best Bowie impersonation [from what one can gather, to keep the costs down].
I'm a Bowie fan, not a fanatic, but I can't say watching Rare And Unseen was a particularly great use of an hour of my time. Dusting down some of Bowie's back catalogue would have been far more enjoyable experience. Bowie fans beware.
**
Review by Pete Whalley