ARTHUR BROWN KINGDOM COME Journey Esoteric (2010)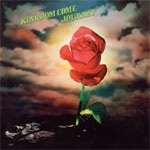 "I was more than a one-hit wonder" mused a somewhat bitter Brown winding up his interview on one of those interminable TV Top 50 Moments shows, this time covering ...ahem.. one-hit wonders.
Yet Arthur had a point: the former God of Hellfire may not have flailed and gyrated again, barnet ablaze, on Top Of The Pops, but this post-Crazy World vehicle for his individualistic talent bears out his words.
A truly 'progressive' artist, Brown saw each album as a platform for change. Where the band's previous two releases were woozily unhinged experimental prog, this 1973 swansong gathers their creativity up into a determinedly focussed flight of space rock, combining classical a framework with guitars and electronica, and an unexpected star turn in the innovative (indeed first) application of a drum machine.
The Bentley Rhythm Ace's mechanical pulse lies at the core of a trip taken ahead of its time, thudding in ominously to open proceedings with the dramatic 'Time Captives', gently underpinning an engaging stab at a pop single in 'Spirit Of Joy'.
Recorded at Rockfield Studios, this time with Dave Edmunds on production and the door to the medicine cupboard locked, Kingdom Come, with Brown in fine voice, forged a benchmark moment in music: twisting, flexing, changing, progressing - journeying. This remastered reissue, expanded to two discs with singles and BBC sessions, lays out a compelling story.
****
Review by Peter Muir
Peter Muir presents "Progressive Rock Fusion" on Get Ready to ROCK! Radio, Sunday 19:00, Monday 19:00
---
| | |
| --- | --- |
| | Print this page in printer-friendly format |
| | Tell a friend about this page |