BAI BANG Are You Ready Metal Heaven (2009)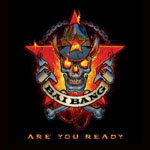 So far this year, one independent record label has impressed me above all others- including the majors. This label is Metal Heaven- the German label that recently brought us the superb new album from Nasty Idols and now follows this up with fellow Swedish band Bai Bangís 'Are You Ready'.
This is Bai Bangís 6th album, and itís hard to believe that a band of this calibre has not registered on my rock ní roll radar before now. Named after a controversial project between the Swedish and Vietnamese governments in 1969. The band are a melodic hard rock band that mixes the sounds of bands such as Warrant, Danger Danger, Poison and early Skid Row.
'Are You Ready' features 10 tracks of hook and harmony laden rock, with opening track 'I Love The Things You Hate' setting the tone for the rest of the album. 'Are You Ready, Iím Ready' is surely the bastard love child of Motley Crue and The Scorpions, whilst 'All The Little Things' would sit nicely on any latter day Def Leppard album. The big ballad on this CD is 'Only The Best Die Young', and this features ex-Alice Cooper guitarist Ryan Roxie. Other tracks that stand out include 'Born To Rock', with itís heavier, chunky guitars courtesy of guitarist Pelle Eliaz, 'We Come Alive' and 'Long Time Cuminí'.
Vocalist Diddi Kastenholt has recruited a superb band for this album and, having already supported the likes of L.A Guns, Thin Lizzy, Ratt and Motley Crue- hereís hoping they will stick around to enjoy the fruits of their labour.
****
Review by Nikk Gunns
---
| | |
| --- | --- |
| | Print this page in printer-friendly format |
| | Tell a friend about this page |