ALQUIN Reissues Esoteric (2009)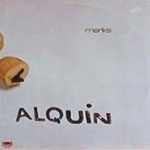 Having mined so effectively the backwaters of 70's British progressive rock, Esoteric take to the fresh seams of the Lowlands, raising from the dead the likes of melodramatic Earth & Fire and quirky, uber-cool Supersister.
Emerging from Delft University in 1969, prog/jazz rock six-piece Alquin recorded debut Marks in 1972 under Supersister producer Hans van Oosterhout.
Proficiently performed, insufficiently focussed in terms of musical direction, the album is spotted with good moments but the drift from pop to modern jazz via improv, rock and even bizarre proto-metal in bonus track closer 'Hard Royce' denies it purpose.
The moody Floydian 'I Wish I Could' sticks in the mind and the band wisely picks the thread again in the elegant 'Soft-Eyed Woman' on 1973's superior Mountain Queen, recorded in London by Wishbone Ash, Deep Purple, Jethro Tull producer Derek Lawrence as Focus yodelled their way through the UK charts.
Greater drive and musical consistency complement some memorable and even stronger material ranging from driving opener 'The Dance' to the Caravan-influenced title track by way of the moodily progressive 'Convicts Of The Air'.
Alquin continued to release albums but with hindsight 'The Mountain Queen' was the real beauty.
Marks ***
Mountain Queen ****
Review by Peter Muir
Peter Muir presents "Progressive Rock Fusion" on Get Ready to ROCK! Radio, Sunday 19:00, Monday 19:00
---
| | |
| --- | --- |
| | Print this page in printer-friendly format |
| | Tell a friend about this page |