Classic Tori in mild pornography shock...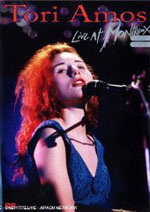 It's very difficult in these days of talentless X-Factor no-marks and transient one-album bands to find a piece of work that is a truly uplifting, intimate and emotional musical experience. This is it. This is definitely it! I sat absolutely spellbound throughout, and that, trust me, very rarely happens these days.

This DVD captures Tori Amos live at Montreux in 1991, just before the brilliant 'Little Earthquakes' was released, and in 1992, a few months afterwards, and although there is only the matter of a year between the shows, the difference is amazing.

Both shows feature just Tori and a piano, which, let's face it, is really the only way to hear her, and, rather like Radiohead post-OK Computer, the last chance to catch her before all the break beats, dub and general wackiness kicked in.

The 1991 set was filmed in front of an appreciative and polite, but hardly rapturous audience on a stage littered with drums, amps and general paraphernalia - like she was the warm-up for the main attraction. No matter - she delivers an outstanding performance featuring some of the classic cuts from Little Earthquakes such as 'Silent All These Years', 'China', 'Crucify', the wonderful A cappella 'Song For Eric', the beautiful 'Winter' and an exceptional rendition of 'Zep's 'Thank You'.

The 1992 set sees a much more confident Tori, confident enough to tell people talking during the first few bars of the opener 'Little Earthquakes' to shut the f*** up. She's also been given the stage to herself with a Steinway grand.
Quite a few of the tracks are duplicated in this set (as you'd expect), but are delivered with so much more maturity that they almost sound like different songs - 'Silent All These Years', 'Precious Things', 'Happy Phantom' and 'Winter' are delivered with real panache. Her versions of 'Zep's 'Whole Lotta Love' and Cobain's 'Smells Like Teen Spirit' are truly exceptional and her own 'Me And A Gun', again delivered A Cappella, is not only moving, but chilling in the extreme and during which you could have heard a pin drop.

I have to mention the brilliance of both the camera work and the editing which is very sympathetic to the music and indeed, to Tori's off-the-wall personality. I also have to mention that, particularly on set two, and I don't know if this is deliberate, but the filming and close-cropped editing almost turn the performance into mild pornography!

All in all this is an idiosyncratic, maverick musician at the start of a stellar career delivering a performance that most of today's charlatans could only dream of. My only question is why has it taken this long to be released?

****

Review by Alan Jones