THE PINEAPPLE THIEF Tightly Unwound
KScope (2008)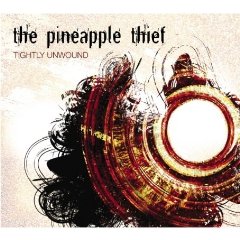 Bruce Soord is the driving force behind this band that has been around since the late 90's. The band has signed to the newly formed KScope label (part of Snapper Music) and hopefully this album will see them break out to a much wider audience.
The album does need a few plays to fully appreciate it although the ten minute epic 'Different World' is an instant hit featuring emotive vocals and some lovely drum playing midway through. I love the way the track fades out quietly to come crashing back on the chorus line (similar to the other epic song on here 'Too Much To Lose').
Vocally similar to the excellent Elbow and musically you can hear a hint of Radiohead. For me this song is the album's standout track and you don't say that very often about ten minute songs.
Elsewhere 'My Debt To You' has a slightly subdued start to the album and like 'The Sorry State' reminded me very much of latter-day Marillion in that the music is complex but underlying it all are some beautiful melodies.
The band use acoustic guitars to good use using them in many cases instead of electric guitars to drive a tune along. I love the way the band can switch form a deep, rich sound to a very sparse vocal/piano sound - not dissimilar to Porcupine Tree in fact.
The Pineapple Thief should be rightly proud of this album and for those who enjoy a band like Elbow, Marillion and Porcupine Tree there is much to enjoy on here. Like Elbow the band may not be 'hip' and get mainstream coverage but the music they produce is deserving of the widest audience possible.
****
Review by Jason Ritchie
Interview
---
| | |
| --- | --- |
| | Print this page in printer-friendly format |
| | Tell a friend about this page |
***** Out of this world | **** Pretty damn fine |
*** OK, approach with caution unless you are a fan |
** Instant bargain bin fodder | * Ugly. Just ugly
get ready to rock is a division of hotdigitsnewmedia group