NAZARETH The Newz Edel (2008)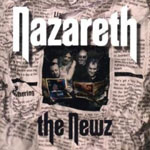 10 years since Nazareth's last album, Boogaloo, the first album since the sad passing of original drummer Darrell Sweet, hence the first with drummer Lee Agnew (bassist Pete's son). Many a Naz fan has been hungry for some new material, and they've come up with some absolute killers.
First off I must mention the album title, which is a play on something originally touted as the title for Boogaloo, but that's another story (I was there at the time).
For those unfamiliar with the band, this Scottish 4 piece (sometimes 5 or 6 piece) have been releasing some classic (I mean REAL) classic rock since the early 70s, where the plethora of compilations seem to concentrate, but there's been some great material during the 80s and 90s, and while new studio albums have slowed down (from 3 in under 2 years in 1973) they are one of the hardest touring bands around.
The album opens with some neat guitar work before the crunch of the full on metal 'Goin' Loco'. An in-your-face start. 'Day At The Beach' is a more melodic polished number, nodding at mid 90s Nazareth. Drummer Lee and guitarist Jimmy Murrison fit in so well, a whole lot smoother than McCafferty's trademark whiskey soaked vocals.
'Liar' is already cause for discussion on the Nazareth forums, with some clever lyrics poking at a certain president. The almost alt.metal sound is a move up for the band too.
'See Me', with its acoustic feel, nods at the mid / late 70s with clean modern production, another well written song, proving the band's versatility in both playing and writing.
'Enough Love' mixes mid 80s with mid 90s, a solid and radio friendly track, as commercial as Naz get yet still a damn fine tune. Perfect single material. In contrast is 'Warning', a trad metal track with a crunchy riff.
'Mean Streets' sees Pete lead with a decent bass riff at the deep end, I see he's still getting the best out of his Alembic. A real groove this one.
'Road Trip' is a real beefed up Boogaloo style boogie, and the lighter 'Gloria' is already proving a fans' favourite. A solid Nazareth rocker with both pop and metal leanings, and a fantastic melody.
Another uptempo track is 'Keep On Travellin'', which mixes Boogaloo with early 80s foot stomp - thing Sweetheart Tree or Local Still with a real metal edge.
'Loggin' On' follows the 90s lead with some great melodies and production, it's a very well structured song that should become a favourite, and a good choice for a less commercial single.
'The Gathering' and 'Dying Breed' finish the album well, the latter the trademark Nazareth rock ballad. A Classic.
Several minutes after the end of 'Dying Breed', there's a hidden track sounds a little cluttered, it features some dark German speaking too. Maybe there's something I didn't get, but it's the only track on the album I had trouble with.
So bar that hidden track, it's pretty much an essential release from a classic rock band. Enjoy, I know I will. Plenty variation, some great fresh sounding production. Definitely worth the wait.
*****
Review by Joe Geesin

---
| | |
| --- | --- |
| | Print this page in printer-friendly format |
| | Tell a friend about this page |