CREEDENCE CLEARWATER REVIVAL Rock Legends Universal/Polydor (2008)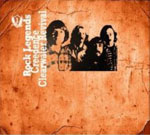 As the copious liner notes conclude this collection of great music from a great band deserved better than the enduring acrimony which eventually led the band to fall apart.
Indeed it is only many years after the event that John Fogerty the main creative force of Creedence finally resolved his differences with Fantasy records. The result is that he once again is playing some of his very best music, most of it captured on this 16 track CD (albeit 18 are listed).
Given the psychedelic explosion of the late 60's, Creedence Clearwater Revival clearly charted an independent path based on Fogerty's swampy southern sound that incorporated elements of country rock, rockabilly, country and a southern sound that is best summarised as swamp rock.
Whatever the labels there are plenty of gems here, most obviously the hits such as 'Bad Moon Rising', 'Proud Mary' and the country rock of 'Lodi' to the acerbic rocking of 'Up Around The Bend' and the swampy groove of 'Sweet Hitch Hiker'
But in many respects it's the lesser known tracks such as the rocking 'It Came Out Of The Sky' that really impress. Trouble is that of the 18 tracks listed on the inside of the booklet only 16 make it to the CD thus there is no listed 'Fortunate Son' or indeed 'I Heard It Through the Grapevine'!! But there's still plenty to enjoy including the trademark swamp rock growl of 'Born On the Bayou' which uses the same riff and groove as the following 'Keep On Chooglin'. The latter could surely have been quietly dropped in favour of say of the far superior 'Run Through the Jungle'.
Come to that there's no real reason for the inclusion of 'Door To Door' - from the very poor 'Mardi Gras' album save possibly to appease Stu Cooke who wrote it. In truth it's not a bad effort, but just not in the Fogerty class. More indefensible is the lack of room for 'Travellin' Band or 'Long As I Can See The Light' from the band's best album 'Cosmo's Factory'.
Similarly the inclusion of 'Get Down Woman' instead of, say, 'I Put A Spell On You' takes some explaining, but on balance there enough here to satisfy most rock fans who are looking for an updated CCR compilation and this one just about does the trick.
****
Review by Pete Feenstra
In the same series:
Related>> Velvet Underground
Related>> Motley Crue
Related>> Rock Legends
---
| | |
| --- | --- |
| | Print this page in printer-friendly format |
| | Tell a friend about this page |