CHRIS DUARTE GROUP Vantage Point
Provogue PRD 7261 2 (2008)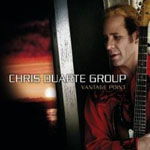 Chris Duarte is having a party! And that's no mean feat when you have been described as 'The John Coltrane of the guitar' and you enjoy a penchant for angular guitar explorations. But on 'Vantage Point' Chris kicks open the barn door and rocks out big style.
The Atlanta based guitarist is one of the most essential players to have emerged from the Austin Texas blues scene. And while Chris has inevitable been touted as the natural successor to Stevie Ray Vaughan and the like, he has his own style which is based on exploring the outer parameters of his guitar playing. And to date, his albums have been a mix of incendiary solo's, different tone explorations and inspired playing.
There's more of the same on 'Vantage Point', but like its predecessor 'Blue Velocity' there a greater sense of coherence to the material. And with its mix of tough rocking blues, boogie, funk and even jazzier elements, allied with his intense playing style 'Vantage Point' brilliantly showcases the many shades of Chris Duarte's unique style.
Yes there's an undoubted Texas feel to the proceedings and on occasions he does evoke a mix of SRV, Hendrix and even Johnny Winter, but these are but stylistic inflections along a musical journey that is all his own.
On the opening long linear lines of 'The Best I Can Do' and the more laid back 'Blow Your Mind' he conjures up some Lonnie Mack style roadhouse rocking. The self explanatory 'More Boogie' finds him building up a real head of steam with his intuitive rhythm section, while 'Troubles on Me' is the kind of intense meandering guitar exploration that sets Chris aside from his contemporaries. He digs so deep in terms of tonality and intense note flurries that you wonder if he's ever going to return back to earth to check in with his rhythm section.
Significantly both 'Blow Your Mind' and 'Troubles' enjoy lengthier explorations on two unexpected bonus tracks, giving you an insight into how hard he explores his grooves. Simply stunning! But he does return to base for an up tempo rock and roll work out on 'Let's Have A Party' and evokes the sprit of Hendrix with a psychedelic drenched tone on 'She Don't Live Here Anymore', a number that employs a Zeppelin style stop-time device and change of pace in the middle.
'Vantage Point' will please many of those fans who have long championed this adventurous guitarist. There's been a feeling that he has often been a few songs short of breaking on to a bigger level, but once you hear the tough grooves and burning solo's here, you'll be hooked. My personal favourite is 'Babylon' on which he utilises a catchy repeated chorus and a trademark mesmerising guitar break that might belatedly give him a bit more deserved radio play. The closing Jeff Beck style instrumental 'Woodpecker' is a funked up, warm toned jazzy excursion on which Chris eloquently demonstrates his chops in the company of his excellent rhythm section - Joseph Patrick Moore and Jeff Reilly – a ge ntle reminder if it was needed that for all his brilliance this is in fact a band, the marvellous Chris Duarte Group!
****
Review by Pete Feenstra
---
| | |
| --- | --- |
| | Print this page in printer-friendly format |
| | Tell a friend about this page |