BROTHER FIRETRIBE Break Out Spinefarm/Universal (2008)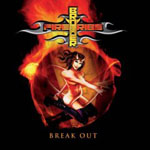 Brother Firetribe get their 2006 debut album re-released (and renamed as it was originally called 'False Metal') with three added songs. Brother Firetribe is the AOR/melodic rock side project of Nightwish guitarist Empuu Vuorinen and features Leverage vocalist Pekka Ansio Heino. But for me the real star are the keyboards of Tomppa Nikulainen who adds wave after wave of lush keys that would put Gregg Giuffria in the shade!
Like this year's new albums by Alliance and Khymera this band knows how to pen ultra catchy AOR/melodic hard rock that you just have to play again & again. The title track rides in on an intro packed full of keyboards and guitar whilst 'I'm On Fire' beats the 80's bands at their own game – think Brighton Rock or Honeymoon Suite but better! 'Valerie' is a wonderful AOR tune reminding you of Europe in their prime. 'Midnite Queen' may have a cheesy lyric but this type of music will never push back boundaries it is about quality tunes with a lasting appeal and this song has it all!
'Devil's Daughter' again keeps those riffs coming whilst 'Lover Tonite' could teach Loverboy a thing or too. Three bonus songs include an acoustic version of 'Love Goes Down' and two cracking covers. First up Cheap Trick's 'Mighty Wings' (from the film 'Top Gun') and is it me or do they sing 'Cheap Trick' on the chorus outro? Dio's 'Hungry For Heaven' goes all pomp with the keys set to 'stun' and a lovely harmony spot towards the end of the song.
This is a simply wonderful! Yes many will run for the hills but more fool them as this is an essential melodic rock album and as much as I like the Poodles and Wig Wam, this band do leave them someway behind. Not for a long time have I been so impressed by a band who have the hooks, songs and musical ability. Made me dig out my vinyl copies of Guiffria, King Kobra and White Sister for another spin!
*****
Review by Jason Ritchie

---
| | |
| --- | --- |
| | Print this page in printer-friendly format |
| | Tell a friend about this page |
***** Out of this world | **** Pretty damn fine |
*** OK, approach with caution unless you are a fan |
** Instant bargain bin fodder | * Ugly. Just ugly
get ready to rock is a division of hotdigitsnewmedia group