ATOMIC ROOSTER Homework Angel Air SJPCD241 (2008)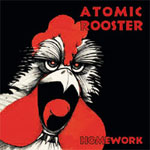 This is an album demoed and scheduled for release around 1980 but it never saw the light of day until now. Only John DuCann remains from the band's classic line-up although the band's drummer Paul Hammond programmed the drum parts (which sadly detract at times due to their very tinny sound). It is a real fans release this one as frankly some of the songs on here are crap like 'X-MASS' and the awful drums/synths on 'C.O.D.' That said the instrumental opener 'The Dukes Theme' is highly enjoyable and 'The Band Played On' is a decent hard rock tune. An added bonus are the Polydor singles released between 1981-82 of which the straight ahead hard rock of 'Rebel With A Clause' is a highlight, along with a live version of the band's most well known tune 'Devil's Answer'.
One for avid fans and collectors, otherwise stick to the band's 70's output.
***
Review by Jason Ritchie

£12.99
It Can Wait Another Day
© 2008 Angel Air Records. All rights reserved.
---
| | |
| --- | --- |
| | Print this page in printer-friendly format |
| | Tell a friend about this page |
***** Out of this world | **** Pretty damn fine |
*** OK, approach with caution unless you are a fan |
** Instant bargain bin fodder | * Ugly. Just ugly
get ready to rock is a division of hotdigitsnewmedia group