ALICE COOPER Along Came A Spider SPV (2008)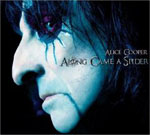 Alice Cooper returns with a concept album based on a serial killer called Spider who collects eight legs from his female victims and wraps them in silk. Only Alice Cooper could come up with such a sick story! But as in all things Alice Cooper the killer comes undone as he falls in love with one of his intended victims. That's the storyline and joining Alice on the album are long time drummer Eric Singer, bassist Chuck Garric and guitarists Keri Kelli and Jason Hook.
Slash pops up to add some nifty soloing on 'Vengeance Is Mine' (one of the heavier songs on the album), Ozzy Osborne shows off his harmonica talents on 'Wake The Dead' (which he co-wrote) and backing vocalist Bernard Fowler (Mick Jagger/Rolling Stones) fleshes out the harmony vocals.
The sound is stripped down with a metal edge, similar to the sound and feel on 'Dragontown'. In fact like Alice's UK shows last year the sound is stripped right down with the two guitarists seemingly preferring to riff rather than lay down guitar solos all over the songs.
It works for the most part but on the ballad 'Salvation' the strings sound too thin and not a patch on the arrangements he has done before on say 'Welcome To My Nightmare' album or the song 'Might As Well Be On Mars'.
'Catch Me If You Can' and 'I'm Hungry' are both catchy hard rockers, the latter could be an updated 'I'm 18'. Alice is on fine vocal form and adds just the right amount of menace to the songs when needed. Oh, and a character from Alice Cooper's past makes a brief cameo on 'I Am The Spider/Epilogue' - listen right to the end to find out!
Whilst no classic like 'Welcome...' it is an enjoyable album and one for long standing Alice fans rather than those who enjoy his more melodic rock output on albums like 'Poison'.
Great story, overall it is all good songs and Alice is back at his menacing best!
****
Review by Jason Ritchie
---
| | |
| --- | --- |
| | Print this page in printer-friendly format |
| | Tell a friend about this page |