AIRBOURNE Runnin' Wild Roadrunner (2008)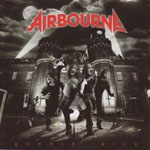 Aussie rockers Airbourne were formed around the O'Keefe brothers - Joel on vocals and guitar and Ryan on drums, they also write all the songs.
Like fellow Australian bands like AC/DC, Rose Tattoo, Cold Chisel and the Angels they play straight ahead hard rock with sing-a-long choruses and lyrics that will have the PC brigade choking on their tea and biscuits!
They really show their love of AC/DC, with 'Stand Up For Rock 'N' Roll' and 'Blackjack' being cracking rockers that wouldn't look amiss on an AC/DC album. The song titles alone give you an indication of the music with 'Cheap Wine & Cheaper Women' and 'What's Eatin' You' (you gotta love the lyrics on this one!) doing exactly what you'd expect - great choruses, rocking guitar riffs and gravel vocals.
Mind you like AC/DC they also have a few duffers on here like 'Hellfire' which doesn't click with the listener.
Yes it is very AC/DC in sound but Airbourne go for the fast approach and don't go down the slow blues rock route often taken by AC/DC. A great debut chock full of riff-tastic tunes - crank it up!
****
Review by Jason Ritchie
---
| | |
| --- | --- |
| | Print this page in printer-friendly format |
| | Tell a friend about this page |