THE CODEX The Codex Frontiers (2007)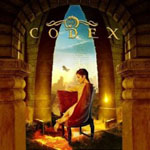 Another one of those Frontiers sponsored collaborations, as this time former Yngwie J. Malmsteen vocalist Mark Boals teams up with hotshot songwriter, guitarist, keyboard player and producer Magnus Karlsson.
Now Karlsson must be pretty popular with Frontiers having already delivered the music for the Allen/Lande collaborations as well as the Starbreaker project in recent years but maybe it's time to give him a break? Surely with so much going on in recent years the quality control has to suffer somewhere and unfortunately too many of these tracks fall into the bracket of decent melodic rock but fall too far short of memorable.
That's not to say it's a release totally without merit though. The opener "Beyond The Dark" is a suitably grand entry and a swift reminder of Boals vocal abilities whilst "Bring Down The Moon" stands out later on. Occasionally hitting on a sound somewhere akin to Pink Cream 69, a couple of the tracks though seem to be not built around the words but rather a vehicle for an overplayed solo, a symptom perhaps of so-called stunt guitarist Karlsson taking the production chair as well? Latter track "Mystery" reminds me of a Bob Catley solo number and again hints that more could have been made of this project but ultimately it stalls some way short of a stormer.
Overall it's worth a listen though, and it'll be interesting to see if this partnership is allowed to develop.
***
Review by Bill Leslie
---
| | |
| --- | --- |
| | Print this page in printer-friendly format |
| | Tell a friend about this page |