SAGA 10,000 Days Inside Out (2007)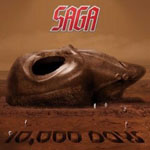 As the band clock up thirty years together vocalist Michael Sadler has stated this will be his final album with the band as he wants to spend more time with his family and explore other musical avenues. A sad day indeed for fans and it will be interesting to see whether the band carry on without him. But at least we get another album to enjoy and this one encompasses all the good things about the band from the lush keyboards (check out 'Lifeline' – superb keys on this one) through to the guitar soloing by Ian Crichton (the solos on 'Sideways' and 'Book Of Lies' are well worth a listen).
Lyrically they touch many bases from on the road black humour of 'Book Of Lies', the political 'Can't You See Me Now?' (very 80's in its sound but with a modern production) and Michael Sadler's personal farewell to fans 'More Than I Deserve', a very touching song and a nice touch by Sadler and the band. 'It Never Ends' builds wonderfully on a fast keyboard motif up to a harmony filled chorus.
Saga can be hit and miss on albums at times depending on what you expect from them but they always strive for musical excellence and this is a fitting album to finish on if that is going to be the case.
****½
Review by Jason Ritchie

---
| | |
| --- | --- |
| | Print this page in printer-friendly format |
| | Tell a friend about this page |
***** Out of this world | **** Pretty damn fine |
*** OK, approach with caution unless you are a fan |
** Instant bargain bin fodder | * Ugly. Just ugly
get ready to rock is a division of hotdigitsnewmedia group