Queen at the top of their game...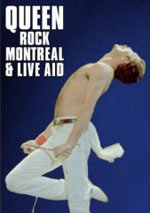 A real treat this one for Queen fans as not only do you get the Montreal gig from 1981, which originally came out in 1984 as 'We Will Rock You' - lovingly updated - but also Queen's seminal Live Aid performance. Bonus wise there is some rehearsal and interview footage pre-Live Aid and a rather bizarre US TV news piece called 'PM Magazine'. The latter gives a quick potted history of the band and sees drummer Roger Taylor in a very nice set of bright green trousers!
The Montreal set is heavily dominated by 1980's 'The Game' and luckily is pre-'Hot Space' the band's weakest album to this fan's ears.
You just can't beat a setlist that contains 'We Will Rock You', 'Save Me', 'Brighton Rock', 'Killer Queen', 'Tie Your Mother Down', an awesome 'Somebody to Love' - the whole set is magic. Brain May and Roger Taylor have also added recent commentary to the Montreal concert and they give insight to the show and some very good quips to keep you entertained.
Freddie Mercury, without a doubt the best showman and front man in rock, and their Live Aid show has gone down in history as one of the best live music performances ever. As Bob Geldof said at the time Queen were one of the few bands to get the idea of his global jukebox i.e. the band just play their most well known songs in twenty minutes and Queen did just that.
One for Queen fans everywhere and a great selection of their classics.
*****
Review by Jason Ritchie