PATTI SMITH Twelve Columbia 82876872512 (2007)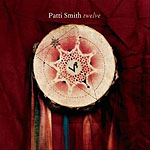 Rock & Roll Hall of Fame inductee Patti Smith may be best known as a new wave icon for both her music and poetry, but her musical interests have long been rooted in rock as evidenced by her admiration for Jim Morrison, her hit with Springsteen's 'Because the Night' and her work with her late husband and former MC5 guitarist Fred Sonic' Smith. And then of course there was 'Horses', one of the albums of the mid 70's which although imbued with Punk venom still rocked.
Over three decades on she's recorded her first covers album. And while most of the material comes from the 70's the album highlight turns out to be a 90's offering, Nirvana's 'Smells Like Teen Spirit'. The link between this effort and the likes of Tears For Fears, Paul Simon, The Stones, Hendrix, Jefferson Starship, and The Allman Brothers etc, is she tells us a sense of an 'inner narrative' born of personal incidents, spontaneous moments in the studio and long held recording ideas.
More importantly she manages to stamp her idiosyncratic style on the dozen rock classics and for the most part turns them into something different and equally interesting. Thus Nirvana's caustic 'Smells Like Teen Spirit' is transformed into a rootsy raggle taggle of fiddle and topped by a mid-number signature stream of consciousness rant.
Similarly George Harrison 'Within Without You' is taken as a gentle waltz, all soft brush strokes with a 12 string acoustic wash, and a quite delicate vocal line. Dylan's hugely underrated 1978 'Changing of the Guards' is similarly given a semi unplugged treatment bringing clarity to his magical lyrics while the Allman Brothers 'Midnight Rider' floats on a glorious acoustic line from Black Crows guitarist Rich Robinson.
Patti is in her element when exploring the Lois Carroll imagery of 'White Rabbit in a melange of echo and psychedelic reverb and digs deep to give full reign to The Doors 'Soul Kitchen'.
Having made such a big impression with her comeback album 'Trampin', 'Twelve' might seem something of a gamble, but in truth it's a wholly successful project. Perhaps only Patti could have thought about resurrecting The Stones 'Gimme Shelter' as a vocal tour de force and it is but one of several delightful efforts on an excellent if not groundbreaking album.
****
Review by Pete Feenstra

---
| | |
| --- | --- |
| | Print this page in printer-friendly format |
| | Tell a friend about this page |