VARIOUS Dear Mr Fantasy - A Celebration For Jim Capaldi Eagle Records (2007)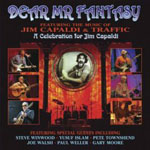 Recorded back in January 2007 this is a tribute to the late Traffic drummer Jim Capaldi, who also had a long and fruitful solo career. Twenty songs spread across two discs and it is surprising where some of the highlights lie.
Take for instance Paul Weller's sterling run through Traffic's 'Paper Sun'. Not a big fan of his previous work but you have to admire his vocal abilities. He pops up again on 'Pearly Queen' and 'Here We Go Round The Mulberry Bush'.
Fellow Traffic member Steve Winwood is prominent throughout the evening's music including an emotionally charged vocal on the title track 'Dear Mr Fantasy'. Dennis Locorriere (ex-Dr Hook) also shines on 'Elixir Of Life'.
Classic rock fans are in for a treat on Capaldi's solo song 'Living On The Outside' which sees Jon Lord, Bill Wyman and Joe Walsh reprise their roles on the original album.
Other notable guests include Yusuf Islam (aka Cat Stevens), Gary Moore and Pete Townsend. The grand finale is 'Love Will Keep Us Alive' led by Steve Winwood.
A very fitting tribute plus some pf the proceeds go to help raise funds for children's charity The Landmark Trust, which was founded by Jim Capaldi.
****
Review by Jason Ritchie
---
| | |
| --- | --- |
| | Print this page in printer-friendly format |
| | Tell a friend about this page |