Just witnessed your best live gig?..send us a review!
JOE BONAMASSA
Florida Theater, Jacksonville, 9 February 2007
Joe Bonamassa played here in Jacksonville three and a half years ago opening for Peter Frampton. Growing up in New Jersey in the late 70's meant Peter Frampton and Kiss were Gods. I have seen Peter live more than a few times and every time I went to that show, I'd talk about it for weeks however, when Joe Bonamassa opened for him it was Joe I was talking about for weeks.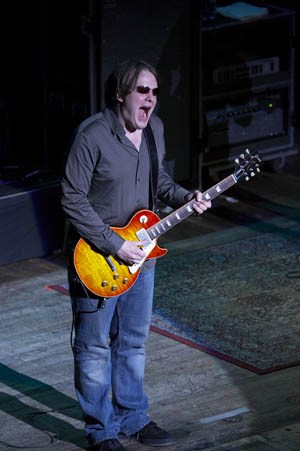 Only playing to a 2/3's house at the Florida Theater meant two things. One, it was a damn shame more people did not get to experience it because Joe put on a display of pure musicianship that would bring Robert Johnson back from the dead to re-negotiate his deal with the devil in order to step up to the challenge that Joe was laying down.
Two, he may have gotten the wrong impression of Jacksonville's appreciation of this level of talent. Joe, if you get to read this, come back to our fair town and I will personally help spread the word.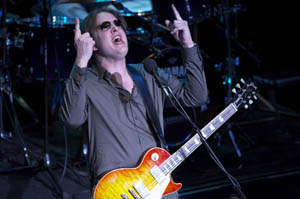 Most reviewers go into what songs he played and for how long and yada, yada, yada. I'm not going there today. I want everyone reading this to experience Bonamassa's show themselves. To be there and hear him do things with six stings is nothing short of amazing. When Joe brought out the acoustic I never expected that instrument to sound as if wings would suddenly bust through the back and take flight. This virtuoso played it for what seemed like an hour without any signs of fatigue.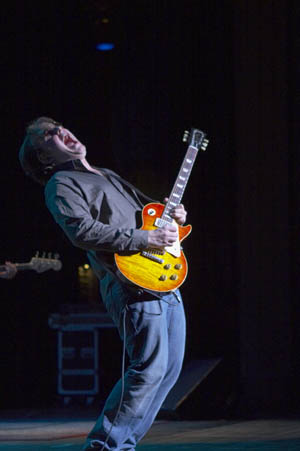 On tour promoting his latest CD, 'You and Me' marks the debut collaboration of Bonamassa and producer Kevin Shirley (Led Zeppelin, The Black Crowes, Aerosmith, Joe Satriani). Joe's depth and versatility, his vocals as well as his incredible guitar playing make buying a ticket to his show a no brainer. Treated we were to an array of vintage guitars, Bonamassa played a bevy of hard, soft, mellow, driving songs that had the 1000 in attendance on their feet much of the night.
I spoke to more than a few who attended and everyone was in agreement that it was a powerfully exciting show from a humble musician who signed autographs and took photos right out front after the show. The blues never sounded as bright as they did at the Florida Theater tonight.
Review and photos by Steve Janowicz
---
| | |
| --- | --- |
| | Print this page in printer-friendly format |
| | Tell a friend about this page |