Foreigner harder rock set...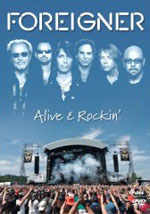 Foreigner certainly have had a new lease of life with Kelly Hansen (ex-Hurricane) on vocals who is a real bundle of energy on stage and works the crowd well, especially as Bang Your Head tends to feature bands in the metal genre more than the melodic hard rock of Foreigner.
The band play a hard rock set with no ballads, although 'Starrider' does bring the tempo down slightly. The setlist is Classic Foreigner from the opener 'Double Vision', the excellent 'Dirty White Boy', the extended 'Jukebox Hero/Whole Lotta Love' through to the closing 'Hot Blooded'.
The only founding member left, Mick Jones seems to be thoroughly enjoying himself and the rhythm section is very tight featuring ex-Dokken bassist Jeff Pilson and Jason Bonham on drums.
Bonus features are interviews with Mick Jones, Kelly Hansen and Jason Bonham plus a quick film piece on the festivals fans and a brief view backstage.
A no-frills hard rock set from one of the best hard rock bands around. Hopefully this line-up will record some new material as I am sure it will live up to the band's strong and enjoyable musical past.
****
Review by Jason Ritchie