BON JOVI Lost Highway (2007)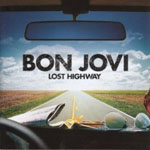 Pomp rockers of the 80s Bon Jovi have finally ended up in Nashville and fallen for the new country hook, line, and sinker. This is a not a pure country album by any means but it means country, pop, and hard rock half way for one of the best releases this lot have done for quite a long time.
There are no serious stinkers on here like on their last few. I came into this album with fairly low expectations and was rather impressed.
The duets LeAnn Rimes, "Till We Ain't Strangers Anymore" and "We Got it Going On" are quality tracks of country-tinged AOR. The stand out up tempo track has got to be "Summertime" with its nod to the anthemia rocks of Bon Jovi's past.
It took Bon Jovi long enough but they finally followed rockers like the guys in Giant (the Huff brothers) and Ron Keel to Nashville, the new home of American AOR. It is bizarre they left off the big hit "Who Says You Can't Go Home," though.
****
Review by Marty Dodge

---
| | |
| --- | --- |
| | Print this page in printer-friendly format |
| | Tell a friend about this page |