ALTER BRIDGE Blackbird Universal Republic (2007)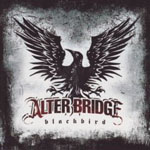 Despite many liking the band's debut album released back in 2004 I could never quite get into in. So when the follow-up arrived I was determined to try again!
Luckily I can report that this album is a corker. Vocalist Myles Kennedy again shows what a powerful set of lungs he possesses, just listen to 'Ties That Bind' or 'Coming Home' (reminds you of Soundgarden which is no band thing).
But the real standout has to be 'Before Tomorrow Comes' with a soaring chorus and the heavy guitar backing. One of the best songs I've heard this year. 'Watch Over You' is the nearest the band come to a ballad with acoustic passages leading into an epic chorus. Like Nickelback but with just a touch more passion in the vocals.
This is sure to delight their many fans and it has certainly won me over this time. Plus they have shed themselves of the 'Creed with a new singer' tag and have staked their own sound and identity. Their next album should be well worth waiting for on the evidence of this fine set of tunes!
****
Review by Jason Ritchie

---
Ties That Bind
© 2007 Universal Republic Records. All rights reserved.

---