THE DARKNESS One Way Ticket To Hell...And Back Atlantic (2005)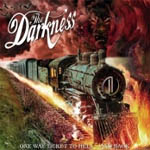 Well the band you either love or hate are back with their second album, produced this time by Roy Thomas Baker (Queen/The Cars), a producer not known for sparse production. Since the last album bassist Frankie Pouillan has gone (he still co-wrote four songs on here) to be replaced by Richie Edwards.
From the off its OTT mayhem with 'One Way Ticket' rollicking along after an intro of a someone snorting cocaine! Even the response choruses on here are very Queen like.
In fact Queen, Sparks and The Sweet (on the harmonies) come to mind many times throughout this album on songs such as 'Knockers' and 'Hazel Eyes'.
Power ballads? You got 'em with 'Blind Man', whilst the sheer pomp rock of 'English Country Garden' (played live on their last tour) is a joy to the ears. Plus the wordplay would do the late Ronnie Barker proud - 'She said have you got a match. I said yes my cock and farmer Giles' prizewinning marrow' (think about it!).
Overall it is even more OTT then their debut with sitars, bagpipes and synths all added into the mix. The only long term problem the band face is that no way in ten or so years can you see Justin Hawkins still hitting these dog bothering high notes.
Taking the piss or serious rockers who just want to put the fun back into rock music? It's a personal choice but I am a fan and with this album they have proved they can still write good rock songs.
****
Review by Jason Ritchie
Audio streams: (click link to hear audio - will open in player)
Real Audio
Windows Media
Video streams: (click link for video - will open in player)
Real Media
Windows Media - Lo