THE BEEF 'Here's The Beef'(2004)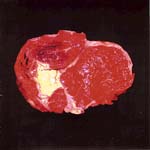 I will try and avoid all comments about this band cooking up a bit of a stew. The Beef describe themselves as 'hard rock jazz' and come from Sweden. From the land that gave us In Flames, Locomotive Breath and Yngwie, this latest export melds meaty rock riffs and a funky brass section. Sort of Budgie meets Blood Sweat & Tears.
The opener. 'Motorcycle Irene' has an infectious grunge guitar and...swings like hell. 'Where's The Beef' could come straight from a Clint Eastwood cop flick c.1975 with horn arrangement by Lalo Schifrin.
These guys sound like they approach their work with a degree of humour. How else could this explain the oddity that is 'Broth' replete with weird vocals and hard rock rifferama.
Sweden has also given us ABBA, IKEA, and the Volvo. Be thankful, and get The Beef on your smorgasbord.
Band Website
***
Review by David Randall
Move Your Meat
© 2004 Johan Nilsson, Jens Henriksson/The Beef. All rights reserved.