THE ALARM Under Attack EMI/Liberty (2006)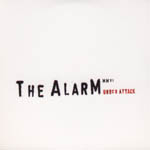 The Alarm are back with another superb album full of rousing anthems and more mellow acoustic moments. After the comeback success of 'In The Poppyfields' which included the band's hit single '45 RPM', the band are back on their old label EMI.
It maybe just Mike Peters remaining from the 80's line-up but then he is the Alarm really. The success of this and the predecessor's songs are the call-to-arms anthems like 'Without A Fight' and the simply superb 'Superchannel' – the latter won't leave your head after just one play it is that catchy!
'Raindown' is one of the mid tempo meets ballads that the Alarm do so well and the fade out harmonies on this one are spine tingling. Again the production has a live feel and if anything the guitars are more to the fore this time around. Other highlights include 'Zero' and 'Cease and Desist'.
Another top notch album from the band with Mike Peters on fine vocal and song writing form. Another album of the year methinks!
****½
Review by Jason Ritchie
Superchannel
© 2006 EMI. All rights reserved.
***** Out of this world | **** Pretty damn fine |
*** OK, approach with caution unless you are a fan |
** Instant bargain bin fodder | * Ugly. Just ugly
get ready to rock is a division of hotdigitsnewmedia group