STYX & THE CONTEMPORARY YOUTH ORCHESTRA OF CLEVELAND One With Everything
Eagle Rock (2006)
Styx, orchestra and the devil's horns ...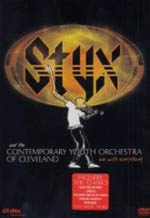 Styx teamed-up with this youth orchestra (all players are aged 13 to 19 years old) to produce a memorable night of Styx music, with the emphasis on the classics.
Much of the Styx repertoire stands-up well with added orchestral backing and the band allow the younger musicians to be heard above the guitars and drums.
A seventeen song set including 'Lorelli', 'One With Everything', a great version of Lawrence Gowan's solo tune 'A Criminal Mind' and the Styx CYO Medley covers many tunes to great effect.
Original bass player John Ponozzo joins the band for 'Fooling Yourself', whilst the Beatles 'I Am The Walrus' takes on a whole new sound with added orchestra. The band are on fine form with drummer Todd Sucherman keeping the solid beat throughout the drums but without drowning out the quieter sections of the orchestra.
Bonus features include band interviews plus the CYO conductor Lisa Grossman along with two new Styx songs with a festive air - 'All I Want' and 'Ring The Bells'.
Both tunes are pleasant enough but nothing amazing. Best comment comes from Lawrence Gowan on how festive it seemed on stage even though this concert was recorded back in May this year.
A great DVD for fans of the band and one that is very close to their UK set list form 2005. Great to see so many talented young musicians as well including the choir getting into the mood doing Dio-approved devil's horns!
****½
Review by Jason Ritchie
---
| | |
| --- | --- |
| | Print this page in printer-friendly format |
| | Tell a friend about this page |
***** Out of this world | **** Pretty damn fine |
*** OK, approach with caution unless you are a fan |
** Instant bargain bin fodder | * Ugly. Just ugly
get ready to rock is a division of hotdigitsnewmedia group