STEVE HACKETT Horizons DVD
(Classic Rock Productions CRL015) (2003)
Urbane guitar heroics from one-time Genesis stringsmith...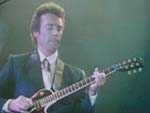 Just an aside, but have a look at some early shots of Hackett with Genesis and then watch this video, the heavy-bespectacled somewhat retiring guitarist has morphed into an urbane nattily-suited frontman. This is a rare Central TV concert from 1990 and features Steve with 'new' band members like Julian Colbeck(keyboards) and long-time collaborator John Hackett on flute.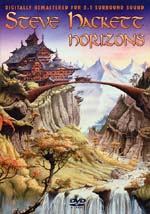 With prominent synth backing this DVD offering has a certain eighties-legacy feel to it but there is no denying Hackett is a wonderfully rounded guitar player, as anyone who has followed his solo career will testify. His electric work here is stunning. You get some of his earlier 'classics' like 'Please Don't Touch' and 'Clocks' and a sprinkling of newer tunes like 'Depth Charge' and the atmospheric 'In The Heart Of The City', the latter cropped up on the 'Guitar Noir' album.
With an acoustic and jazzy interlude this DVD is a great showcase for one of our truly great guitar talents.
****
Depth Charge
© 2003 Classic Rock Productions. All rights reserved.
Review by David Randall
© 2003 All rights reserved.
***** Out of this world | **** Pretty damn fine |
*** OK, approach with caution unless you are a fan |
** Instant bargain bin fodder | * Ugly. Just ugly