Just witnessed your best live gig?..send us a review!
SIMPLE MINDS
The Venue, London, Tuesday 13 September 2005
'Home' was an appropriate and almost inevitable starter for this Simple Minds showcase gig for the Captial Gold Legends Live Series.
Just a day after the release of the new album, the gig marked a homecoming of sorts, in front of a partisan audience of competition winners and fans. The band, whilst seemingly inactive of late, have toured extensively as recently as 2003.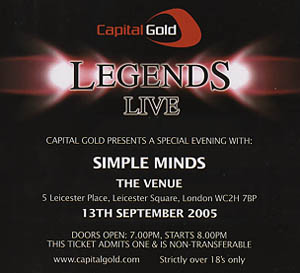 In truth, the album - heralded as something of a renaissance - has had mixed media response. It was, though, plainly evident that the new material sits well against the former 'classics'. It's just that Jim Kerr and co. didn't play enough of it.
Inevitably for a radio show, the band were going to roll out those former classics and one hopes that in the early 2006 tour they don't rest so much on former laurels.
There was, of course, a great reaction to a medley of 'Waterfront' and 'Don't You Forget About Me'. But these tracks underlined the stadium/arena credentials of the band that doesn't necessarily adapt well to smaller venues.
And, whilst Simple Minds do anthemic rock very well, to the uninitiated the one slower track, 'Big Sleep', was just that.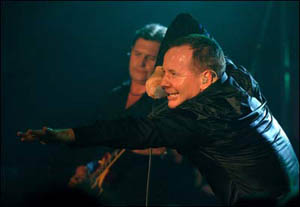 Photo: © 2005 Brian Rasic (www.brianrasic.com)
For me the first encore opener, an instrumental featuring the genial Charlie Burchill's chattering guitar, great keyboard sweeps (take a bow, Andy Gillespie) and superb rhythm from Mel and Eddie (who contribute so much to the classic Simple Minds pumping heartbeat) was a welcome diversion.
Are the band still relevant? Whilst some contemporary bands cite Simple Minds as an inspiration, the audience was an enthusiastic mix of 30 somethings (and some a fair bit older) who first bought records in the eighties. There was a genuine warmth, too, between Jim and his adulating audience (mostly, it has to be said, adulating females).
Whether Simple Minds can cut it with anyone else is debatable, although the underpinning quality of songwriting and musicianship gives them a real chance to rekindle former glories.
****
Review: David Randall
Set-list
Home (from the 2005 album Black & White 050505)
Stay Visible (from the 2005 album Black & White 050505)
The Jeweller Part 2 (from the 2005 album Black & White 050505)
Love Song (from the 1981 album Sons and Fascination / Sisters Feeling Call)
Book of Brilliant Things (from the 1984 album Sparkle In The Rain - 1985)
Mandela Day (from the 1985 album Street Fighting Years)
Waterfront (from the 1984 album Sparkle In The Rain)
Don't You (Forget About Me) (non-LP track originally released as a single in 1985)
Big Sleep (from the 1982 album New Gold Dream 81,82,83,84)
Alive and Kicking (from the 1985 album Once Upon A Time)
New Gold Dream (from the 1982 album New Gold Dream 81,82,83,84)
ENCORE
Theme For Great Cities (from the double 1981 album Sons and Fascination / Sisters Feelings Call)
Stranger (from the 2005 album Black & White 050505)
Space (from the 2002 album Our Secrets Are The Same)
Sanctify Yourself (from the 1985 album Once Upon A Time)