ROGER CHAPMAN and THE SHORTLIST
He Was… She Was… You Was…. We Was…
Angel Air SJPCD193 (2005)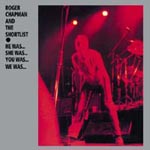 The former Family frontman recorded two live albums in two years in Germany. The first, Live In Hamburg from 1979, really helped cement his career in Europe.
This double live set from 1981 (and released a year later) proved even more successful. With a settled band and playing material from recent albums that would be familiar to all, everything came together.
Hard rock and r'n'b played with a lot of energy, features a large band providing a full sound. Alongside two guitarists (Steve Simpson also playing mandolin), drums and bass also get Poli Palmer on vibes/synths, Tim Hinkley on piano and Nic Pentelow on Saxophone. And many will recognise bassist Boz Burrell.
Some tracks are more mellow – take in "Making The Same Mistake", while others are more funky.
Roger Chapman has been around for a long time and released a range and quantity of material. This album is a definite career highlight, from a time when the UK was succumbing to New Wave. Here in its entirety with extensive liner notes and a bonus track. A very decent package.
****
Review by Joe Geesin


£12.99
Higher Ground
© 2005 Angel Air Records. All rights reserved.