Just witnessed your best live gig?..send us a review!
PUBLIC SYMPHONY
BBC Club, London 20 April 2006
Public Symphony is essentially the brainchild of Dobs Vye and James Reynolds, who presented the highlights of their self titled debut CD on keyboards.
This BBC Club showcase was a classic strategic music industry event to bring attention to a splendid self financed album that offers potentially interested parties/labels much to think about.
With a room full of music biz media, Dobs confidently held court, explaining what the project was about and how his music had made connections with a brace of animators and video producers to great effect. Given his own music business background this polished showcase came as no surprise, but that said, both the quality of his voice and the duo's material exceeded expectations.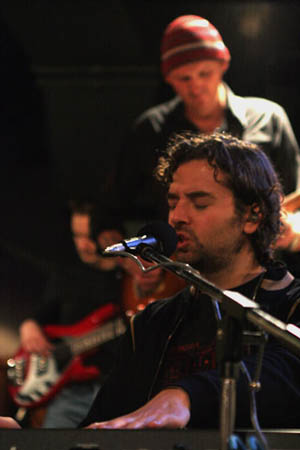 The melodic swoops of the material, the ethereal hooks, the measured use of layered keyboards and Dobs' delicate vocal timbre remind the listener of say Coldplay, Pink Floyd, or even 80's movers and shakers like The Korgis and Rupert Hine. Dob's voice though voice is actually closer to Colin Blunstone in his Alan Parson Project era and in his more introspective times even reminds you of Nick Drake rather than Chris Martin.
The unplugged rendition of the single 'Stronger' brought out the melodic undertow to much of the duo's work. The single was reprised as an audio visual concept at the close of the showcase to great effect.
The following song 'Breakthrough' is already slated as the second single and the song gained much currency with the accompanying video - all landscapes, sea and sky. And as with Floyd, it is with potential video clips that this music will work best.
'Touch' was a highlight and featured a nice guitar accompaniment to Dobs's sweeping vocal lines with a definite tip of the hat to Coldplay but no worse for that, and finished with a clever perfunctory stop time outro.
And if 'Touch' and 'Stronger' are highlights then the visceral 'Rise and Shine' complete with more telling vocal swoops demonstrated James Reynolds' ability to make the lyrics come to life through the music.
Played live, the number got off to a humorous false start with Dobs losing his ear piece and desperately looking at a CD cover to jog his memory for the lyrics. In the event the mix of lyrical zest matched the clever musical arrangement, and like the showcase as a whole was a triumph.
Set list: Stronger (acoustic version), Breakthrough, Touch, White Dove (audio visual presentation) Rise & Shine, Stronger (audio visual presentation)
Review by Pete Feenstra