PETE BROWN AND THE INTEROCETERS 'Live'
Mystic MYSCD184 (2004)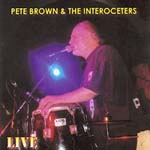 Pete Brown was famed in the late 60s as a song writer for the likes of Cream, and here he fronts a band recorded live at Londonís Borderline in 2002.
The man still has a great voice, strong and not too dissimilar to Jack Bruce in places.
Among more recent songs are tracks he recorded for Cream and Jack Bruce. But itís no power trio set up. More beat with blues and soul, with some female backing vocalists thrown in for good measure.
'Brain Money' is a good opener, and the keyboards adding a funk feel - itís all a great set.
'The Old Rock Singer', 'Hard To Say' and the heavier 'White Room' make for enjoyable listening, although itís rather mellow in places.
A lot of fun.
***
Review by Joe Geesin


Computer Generated Woman
© 2004 Mystic Records. All rights reserved.