PAUL CAMILLERI 'Another Sad Goodbye'
ZYX Music PEC 2003-2 (2005)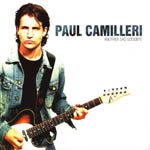 Paul Camilleri is a Swiss based guitarist who deals in relationship songs delivered in a broad blues format. Nothing too startling there perhaps, and the same might be said of the album as a whole, except there are some lovely crafted guitar solo's and a handful of impressive songs.
In fact when producer Poppa Chubby enters the frey on guitar as on the smoking instrumental 'Mister PC', and the toughened up 'Keep Me Movin', Paul shows his ability to rock.
This is a curious album, that never quite catches fire.
Chubby's presence is a logical step to bring Paul out of his shell. The album title almost sums up the subject matter, and when Paul slips into bluesy groove led solo's as on the slow burner 'Poor Heart', the big toned shuffle blues of 'Messin With My Heart' and 'I Can't Wait Until Tonight', he proves himself a fine player with real feel.
Ultimately however, the vocals are very poor and even Chubby's presence as a producer can't disguise a thin vocal range. This is a shame because as Paul demonstrates on the closing coda of 'Lady Luck', he has the ability to write some strong ballads, punctuated with tasteful guitar parts, but alas not the voice to give them forceful expression
**
Review by Pete Feenstra

© 2005 Paul Camilleri. ZYX Music. All rights reserved.