MOTORHEAD Kiss Of Death Sanctuary/SPV (2006)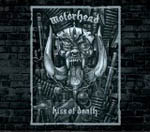 Motorhead return with a new album of cracking tunes; 13 in all including a tribute to the Ramones imaginatively called "Ramones."
Lemmy does always go the direct route to something. Like their previous album "Inferno" there is a bit of acoustic on this one as well in the intro to "God Was Never on Your Side;" not quite as good as "Whorehouse Blues" but still damn impressive.
One of the best tracks on here is the driving "Trigger" with its cracking metal pump and Maiden-esque guitars. You get what you would expect from a Motorhead album and this one is an apt follow-up to their triumphant return two years ago. It's heavy, raw, and in your face metal that delivers exactly what it says on the tin. As with most Motorhead albums, the only time you really need to write much about it is when it's rubbish.
****
Review by Marty Dodge