MAGGIE BELL 'The River Sessions '
River Records RIVERCD016 (2005)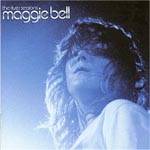 A live album is always welcome from seventies Queen of Rock, Maggie Bell. This concert recorded in Glasgow in November 1993 shows just why Bell had mixed success after the halcyon days when she was groomed as Janis Joplin's successor.
Bell was able to pump out classy rhythm and blues as much as mainstream rock and therefore she fell between both camps. Albums could be patchy and perhaps confusing.
This set, backed by Chris Farlowe's then touring band, sees Maggie in soulful vein and lending her own interpretation to several covers including 'Try A Little Tenderness', 'Only Women Bleed' and 'Ain't No Love In The Heart Of The City'.
It's all very well played if a tad bland. Indeed the raw factor is what made her earlier albums (especially those with Stone The Crows) so captivating and this veers on cabaret in places.
Still, a Maggie Bell live album from this period is a rarity and this complements several Angel Air releases such as 'Midnight Flyer'
***
Review by David Randall

Ain't No Love In The Heart Of The City
© 2005 River Records. All rights reserved.
Related>> Album review (Live Boston 1975)
Related>> Album review (Midnight Flyer)
Related>> Album review (Stone The Crows)