Underrated guitarist raises neck hair ...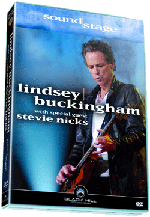 The SoundStage series is a Chicago based sort of Plugged, Unplugged if you get the drift. An invited guest list, an intimate venue with eleven hi-def cameras and all recorded in glorious 5.1 and DTS sound.
With a running time of 71 minutes the dvd covers 13 tracks encompassing hits, new songs, Mac and solo material. And as an added bonus, two songs are performed with long time accomplice Stevie Nicks.
The set opens with the unfamiliar Someone's Gotta Change Your Mind. Pleasant enough and a decent opener, but nothing to set the world on fire. Trouble showcases Lindsey's Spanish guitar virtuosity and turns the quality control up several notches.
It's classic Buckingham and a wonderful version of Mac's Big Love from Tango In The Night follows with some amazing fretwork and aching vocals.
An ultra slow version of Go Insane raises the hairs on the back of your neck - live music doesn't get much better than this. Down On The Rodeo is another new song - performed with supporting players from the Fleetwood Mac touring band. It's typical Buckingham.
A gently paced version of Peacekeeper, and a faultless The Red Rover with some impeccable guitar work from Mac's last outing Say You Will follow.
The next four tracks lift two more from Say You Will and two from Rumours. Stevie Nicks joins the stage for an acoustic version of Never Going Back Again - it's a magic moment with more excellent acoustic work, and stays for an acoustic version of Say Goodbye that eclipses the album version. But it's clear this is Lindsey's gig with Stevie providing nothing much more than harmony parts.
Equally, Murrow Turning Over In His Grave is more direct than the Mac version with some excellent lead guitar work, but Go Your Own Way lacks Lindsey's Mac compatriots - in particular on the vocal harmonies, which are sadly absent.
The 'bonus tracks' are a folky I am Waiting played solo on an electric in Lindsey's 'picking' style with bags of delay, and an interesting version of Steal Your Heart Away from Say You Will with the Mac factor removed.
Overall, SoundStage is a fitting tribute to the brilliance of Lindsey Buckingham - a much-underrated guitarist, vocalist and songwriter.
****
Review by Pete Whalley