LARS BOUTRUP Music For Keyboards (Ex'cess Records EXR1202) (2006)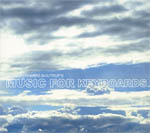 Rock keyboard player Lars releases his first solo album, and as the title suggests it's all keyboards. Plenty of atmosphere, moods, occasional percussion.
Some of the more eclectic work is reminiscent of Ron Geesin, and there's a touch of Keith Emerson to the synth solos too.
Not a guitar in sight, this is hardly hard rock but interesting and enjoyable, if a little self indulgent.
**½
Review by Joe Geesin