JOE BONAMASSA You And Me Provogue PRD7185-2 (2006)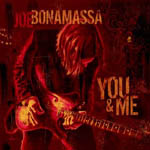 Young guitarist Bonamassa is already making a name for himself as a blues guitarist, and rightly so on this evidence.
Pairing with legendary producer Kevin Shirley, this set is kicks off with the dark and moody High Water Everywhere.
Bridge To Better Days features some excellent guitar work in a slightly off the wall approach to the blues but itís a thoroughly enjoyable listen.
The album features drummer Jason Bonham, and a guest appearance from Pat Thrall. And while the booklet contains some interesting information, itís presentation is a bit of a mess. But itís the music that counts and thatís on top form here.
****
Review by Joe Geesin