Sensitive fretting from laid-back JJ...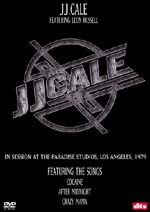 JJ Cale, yes he of Cocaine (wth a capital C) and After Midnight fame. These 1979 recordings at Leon Russell's Paradise Studios were only unearthed in 2001 and have been lovingly restored and remastered. Digitally, naturally. This issue adds a number of bonus tracks and a digital theatre soundtrack.
It reckons on the can that this is the most intimate look at JJ ever. But thankfully he keeps his Y fronts on throughout. Probably best known for Clapton's covers of the afore mentioned numbers and popular with many Dire Straight aficionados (Knopler's vocal and guitar style are scarily similar in style) this is indeed an interesting look at JJ at work.
I'm not sure that 'in session' is an accurate description of the goods on offer here. It looks to me very much like a bunch of friends 'getting it down'. And loving every second of it. The musicianship is impeccable - Russell in particular on Hammond. But you get the impression this was for personal enjoyment and never intended for release.
Cocaine is, well Cocaine - you'd have to have been cryogenetically frozen to never have heard it. Sensitive Kind is wonderfully smooth. Elsewhere there's gentle boogie and laid back rock n roll. And sensitive fret work everywhere. After Midnight is, well, After Midnight. And these numbers are the benchmark of what's on offer here. So if that's the way you like your rock you won't be disappointed with this DVD.
On the plus side, you get 5.1 DTS sound, on the down side the format is only 4:3. You also get 5 'bonus tracks'. But these are audio only - which is fine if you're only planning to listen to the disc. And to be honest, while its been pleasantly filmed and edited there's not a whole lot of eye candy on offer. But hey, what do you expect from something recorded long before cgi was invented?
****
Review by Pete Whalley