He's big down under...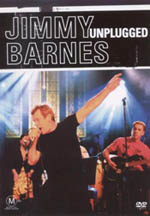 Jimmy Barnes has sold over 7 million albums and had seven number 1 records in Australia alone, therefore putting him in the same league as The Beatles and the Rolling Stones over there.
This DVD was shot at Melbourne's trendy 'The Chapel' and is one of the most impressive Unplugged performances I have seen for a long time. Opening with a version of Elvis' 'Hound Dog', the band is tight throughout the gig and Jimmy attacks the songs like he is fronting AC/DC.
In between songs he comes across as rock's Mr Nice Guy and there is great audience interaction.
Standout tracks include 'Long Way to Go', 'Change of Heart' and a cover of Wilson Pickett's 'Found A Love'. Jimmy brings out his daughter to sing with him on 'Good Times', the 1991 worldwide hit recorded with INXS for the 'Lost Boys' soundtrack.
The gig was good but extra features, and I'm talking about the 'Q&A Jimmy Style', are hilarious and really do make this DVD.
****
Review by Nikk Gunns