Hendrix Woodstock show revisited...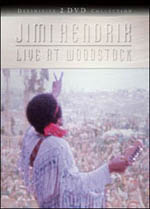 It's amazing how the passage of time, or maybe brain cells, changes opinions. In his Hendrix book, co-authored with the producer of this film John McDermott, Eddie Kramer opines that 'Quite frankly, I never thought his performance, save for 'Star Spangled Banner' and a few other highlights, was any good.'
Now interviewed some 30 years later, Kramer recognises the 'incendiary' performance at Woodstock when Hendrix closed the three days of peace and music.
Historically, Woodstock was always viewed as a patchy performance. Musically and artistically, Hendrix was in transition, having disbanded the Experience and experimenting with new line-ups.
The Woodstock band, including long-time buddies Larry Lee and Billy Cox, and percussionists Juma Sultan and Jerry Velez, was somewhat shambolic. Thankfully Mitch Mitchell (and Cox to be fair) held things down.
Now brushed off, restored, and remastered Hendrix's performance can be re-evaluated, and in the main it's good stuff.
They've buggered about with the original set-list so much in the past that it is useful (if somewhat obsessive) to have the original running order restored on Disc 2 together with previously unforeseen camera angles and black and white footage.
Of course, Hendrix's version of 'Star Spangled Banner' at this gig defined the Woodstock generation and the passing of an era. As an object lesson in guitaring, this film takes some beating and there are particularly fine workouts on 'Lover Man' and 'Voodoo Chile'.
As with the Isle of Wight gig just twelve months or so later, Hendrix was torn between exploring new ground and acceding to audience expectations. I think he got the balance right at Woodstock and it was only the timing of the performance (he came on at 8 in the morning) that made the audience drift home, not the music.
'Jam Back At The House' and the exquisite 'Villanova Junction' shows the direction Hendrix was nudging and which he no doubt would have developed on his next official studio album.
This 2-DVD, three-hour plus pack, pretty much covers all Hendrix bases at Woodstock; in addition to the full-length and expanded concert there are interviews with the main players, a Press Conference shortly after the gig, and of course Eddie Kramer changing his opinion after all these years.
****
Review by David Randall
Related>> DVD review