FATES WARNING 'Live In Athens' DVD
Inside Out (2005)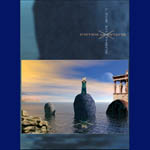 "Well, it's quite an average performance, and the DVD itself has nothing really significant to offer". These were the exact words that a well-respected member of the U.K Rock/Metal community used in order to describe Fates Warning's latest DVD release "Live in Athens" to me, and as a long time follower of the music that's produced by this Connecticut-born outfit, I was neither amused nor convinced. I mean, you can accuse Fates Warning of many things, but making a non-inspiring performance is certainly not one of them, and if you insist on making such "accusations", then you definitely allow people to become quite suspicious as to how well you perceive music in general!
Anyway, I knew that all my questions would be answered once I got my hands on a copy of that release which soon arrived on my doorstep, courtesy of Inside Out records. It was two years ago when "The View From Here", the band's second DVD release saw the light of day (first being "Live at the Dynamo" back in 2000), and if you are wondering why Fates Warning decided to come up with a new DVD release in such a short notice, I suggest that you take a close look on the bonus material of "The View From Here", where you will find a bootleg recording of "The Eleventh Hour" performed in the legendary Athenian club Rodon. The reaction of the band was such that "forced" Matheos, Adler and Co to visit the "Land of the Twelve Gods" once again, and so the idea of "Live in Athens" was born.
"Live in Athens" was filmed while Fates Warning were still on tour promoting their latest studio album "FWX" so you would expect that the main focus would be given on that release, yet albums like "Disconnected" and the amazing "Parallels" were given an equal amount of attention.
On the contrary to what I was originally told, the band was in great form and pretty much loving every moment of the show, assisted by the, once again, very warm response of the Athenian crowd.
It's been long since Ray Alder was eighteen years old, yet this DVD provides some really hard evidence that the very talented frontman can still sweep you off your feet with his beautiful voice. Jim Matheos looked far more relaxed and confident having once again Frank Aresti (also Dragonspoon) handling the duties of the lead guitars, and Joe Vera proved why he is considered one of the most important bass players of his time.
The only thing that made me really sad was the absence of Mark Zonder behind the drum kit, yet I have to admit that Nick Di Virgilio (Spock's Beard) was proved to be the ideal choice to fill in this huge gap. The lucky Athenians enjoyed the performance of fifteen great songs, with "Life in Still Water", "Heal Me", "The Eleventh Hour", "Point of View" and "Nothing Left to Say" being the definite highlights.
There are also a few extra features which include an appearance on the Bulgarian TV, and Fates Warning's Athenian rehearsal and soundcheck. Additionally, there are bootleg recordings of "Another Perfect Day" and "The Eleventh Hour", performed at this year's Dutch Headway Festival, in front of a relatively warm Dutch audience.
I don't know what people generally consider as the right criteria in order to evaluate a live performance, but if these are as simple as having a very energetic and technically proficient band on the one hand, and an amazingly responsive crowd on the other, then "Live in Athens" deserves nothing less than five stars, and that is what it is going to get from me! Fates Warning have been discographically active for the last twenty two years, and it looks like they are going to be doing this sort of thing for the years to come.
*****
Review by John Stefanis